Holiday Flat Im Ziegelhof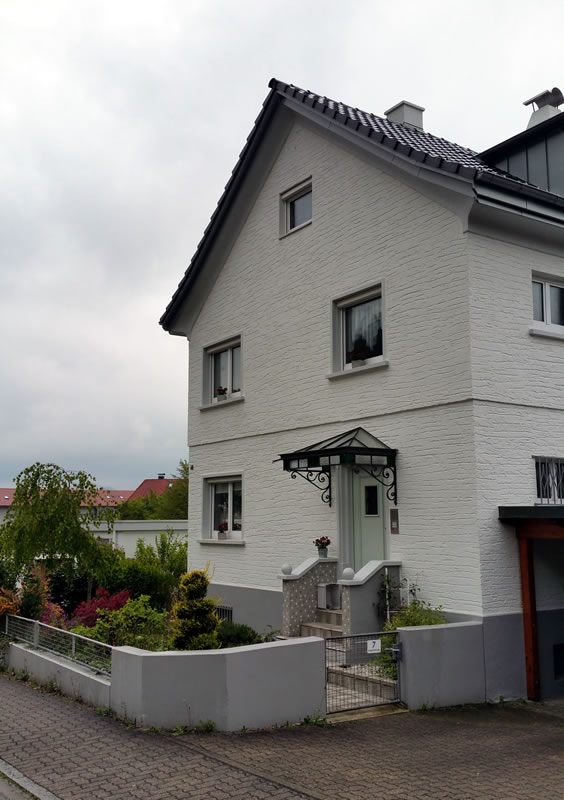 The charming holiday flat is non-smoking and newly renovated, with a master bedroom, a living room including a small kitchen and a bathroom with a shower. Wifi and TV is available, kids and pets are welcome. You can arrange the use of a special shower for dogs with the owner.
The master bedroom is very quiet with a Queen Size Bed for 2 people. The couch in the living room can also be used as a Queen Size Bed for 2 people, so the maximum capability of the flat are 4 people.
The flat is in the second floor of a newly renovated house in the town of Wyhlen, the southern-most community in the federate state of Baden-Württemberg. You can find several hiking possibilities right next to the house, which lead to the Dinkelberggebiet, the Rührberg, into the Wiesental or down to the rhine river. Furthermore, Wyhlen is located at the well-known "Dreiländereck", a Meeting-Point of Switzerland, Germany and France. You can easily travel to all the three countries.
The swiss city of Basel is only 5 km away, reached by Bus No. 38 in approximately 20 minutes. Walking time to the bus stop is 3 minutes.
The distance to the airport Basel Mullhouse is 15 km, it can be reached by public transportation. If you want to travel to Zurich, Bern or the German city of Freiburg by car or by train, it only takes you 50 to 60 minutes from Basel.
You can also combine your holiday with a dog training. Guided walks can also be arranged as part of dog training.
Rental price
1 to 2 nights: 45 € per person and night
3 to 6 nights: 40 € per person and night
More than one week: 35 € per person and night
One-time fee for final cleaning: 35 €
Towels or Bed linen are available for rent, 10 € a week
Important:
Arrival from 14:00 h - departure until 12:00 h
Rental prices include (thereby incurred) tax on sales. They consist of seasonal diversified rental costs and accessory charges.